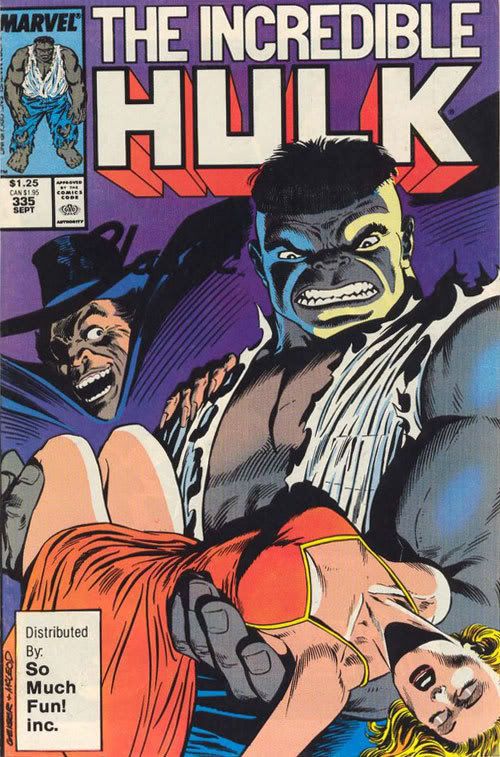 So, now we come to issue #335, which appears to be a breather issue for Todd McFarland as we step away from SHIELD, Gamma Base, Betty, Rick and all the gang. This is a done-in-one story by Peter David and guest artist, John Ridgway. Ridgway is a British comic artist, being the one man to draw Joe Dredd without his helmet, and has worked on Doctor Who, Marvelman, and Hellblazer. Here, his realistic/horror-style is utilized well with a tale pitting two monsters against each other.
The story of Adria Wagner and her stalker would have made for a good episode of the Bill Bixby "Incredible Hulk" television show. Adria is attacked by an ectoplasmic boogie man under her bed and is ultimately blinded by him before running out into the street and into the Hulk. Initially, the "Stalker" thinks that, since the Hulk is another creature of the night, he can talk him into sharing the kill. As this story reveals again, even the Mr. Fixit personality of the Hulk has a set moral compass (thanks to Bruce's intrinsic goodness) and he saves Adria. While in the hospital, Adria is visited by Bruce Banner (in disguise as the staff psychologist) to get more information about the "Stalker" (very Bixby). The implication here is that the Hulk has allowed Bruce to remember the events of the night before in order to stop the villain. Sure, that grey Hulk doesn't care about anyone but himself.
The "Stalker", we come to find out is a manifestation of local gas clerk, Gil Jeffers. He's a disturbed young man who lives on a steady diet of junk food and slasher movies. His monster isn't guided by any positive feelings toward his fellow humans and Jeffers' anger toward people, especially women, directs its evil.
So, this story is ultimately about how we use our anger…the anger we may feel about our history or circumstances and the anger we direct inward. Jeffers can only use it to hurt others and destroy himself. Bruce Banner, with all the bombast of the Hulk continues to focus it on protecting and saving innocent people…and thus, saving himself