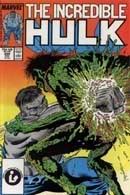 In the 1970s, writers like Denny O'Neil and Steve Gerber brought social ills to the forefront in superhero comics using gritty realism and satire. In the 80s, Alan Moore and Frank Miller dropped the other big maturity shoe for comics by giving characters complex psychological issues.
Without these important phases of development, Peter David's Hulk run probably wouldn't have been possible or, at least, would have looked very different. This issue starts with a villain which seems to have been inspired by Moore's Swamp Thing. He's a professor killed by a gamma bomb explosion and this has caused his consciousness to piece together soil and bits of corpses to create a corporeal form and "live" during the night. Of course, he goes by "Half-Life"…I'm not sure why he needs a clever, punny bad guy name, but there you go. Someone has directed him toward Bruce Banner/Hulk and the battle is short and not even the main focus of the book. It really only is there to let Bruce know that someone is still using gamma bombs.
No most of this issue feels more like Back to the Future II…it's mostly set-up for upcoming stories. Bruce finds out about Ramon, a former lover of Betty. Doc Samson realizes he may not be privy to the truth about Bruce and the Hulk. Rick is freed of the gamma radiation which was causing him to Hulk-out. Two injured SHIELD agents swear revenge on the big green, uh…grey guy. As an issue unto itself, it wasn't one of David's better ones. But subtle things like the Hulk being disturbed by caring feelings about Betty and Rick bringing out his old harmonica again to bond with Bruce were nice. The best stuff is certainly yet to come.