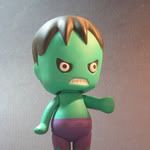 I'll start by saying that I had a really great time reading these stories from the Incredible Hulk and Tales to Astonish. I had no idea that Bruce Banner had pretty much continuously exposed himself to gamma rays over those first few years. Some folks have complained that the Hulk seemed to change with every issue, how he transformed (the moon, gamma exposure, getting upset or anxious not only changing him into the Hulk but back to Banner, etc), his motivations, and even his speech and thought patterns. But these usually had some in-story explanations and kept the series from getting too stale as Rick, Betty, and General Ross seemed a bit stuck in whiny kid, fretting girl, and blustery old guy roles.
Things I loved:
The military, villains, gods, and monsters...they all think they can either control or destroy the Hulk...and they're all wrong. Because the Hulk never, for a moment, believes that he can be beaten. Talk about the power of positive thinking! On the other hand, both the Hulk and Banner sometimes have moments of deep melancholy and thoughts of suicide to either protect others or just because he/they feel so unwanted and rejected by the world. Not many other comic "heroes" of the time had those emotions.
The Leader and his humanoids and his base in an art gallery in Rome. That's awesome. The Leader's ultimate (for now) fate, thanks to some "non-action" by a Watcher, was fitting. AND we get to see the planet of the Watchers!
The "story so far" summaries by Stan the Man and the very goofy credits boxes...fantastic.
Rick using his brains, and his Avengers ID, to talk to the President (LBJ) and reveal the secret identity of the Hulk to him. Hulk gets protection from on high thanks to this, much to Gen. Ross' dismay.
Dislikes:
The aforementioned merry-go-round of Rick, Betty, and Ross. I swear they said the same things in about twenty stories.
The Boomerrang and his "blouse" (his word) of weapons. Ugh...
I give this book four "puny humans" out of five.